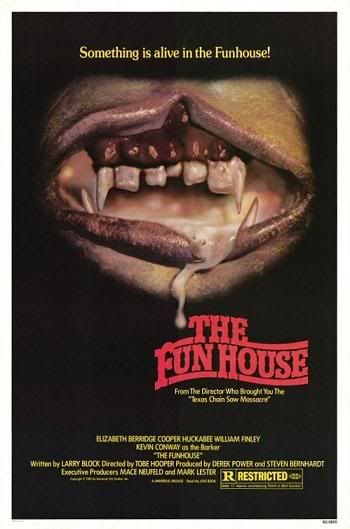 You got a purty mouth….
A remake of Tobe Hooper's underrated 1981 monster/slasher hybrid The Funhouse has been bandied about for a couple of years now, so it's 'upcoming' status isn't really news. However, only recently the project seems to be gaining traction. Remake-mongers Strike Entertainment (production arm of Universal), who previously hit gold with the unexpectedly-not-abominable remake of Dawn Of The Dead, and has a "companion piece" to carpenter's Thing in the works, is now spearheading the project. While no writers or directors have been announced, Alien Raiders' director Ben Rock let slip an intriguing detail on the latest installment of Dread Central's podcast Dinner For Fiends. He mentioned to DC's Steve "Uncle Creepy" Barton that a director of a well-recieved short film was close to nabbing the job to helm the upcoming reduxe. Now, that really doesn't narrow the field much–if at all–but it does allow for some interesting speculation.
What's my guess?
Well, keep in mind that this is utter, unadulterated speculation, but I'm gonna toss out the name of Mark Pavia. As some of you no doubt recall, Pavia directed the grossly underrated, late 90's sleeper The Night Flier, then faded away into undeserved obscurity after but one film. So why'd I choose him? His claim to fame was an acclaimed early 90's short entitled Drag, a zombie opus that got him the 'Flier gig, and served as a warm-up of sorts to Pavia's dream project, a big screenn adaptation of the cult comic DeadWorld which he was thiiiiiis close to landing before it lapsed into development hell. What's more…his other dream project is the intended Michael Berryman vehicle Slice, a classic slasher homage about an axe-wileding kindergarten teacher(!). The final nail in the coffin is Pavia's long-time involvement with a propsed remake of Cronenberg's Shivers (which also seems to have collapsed).
SO, we have an acclaimed short film, a classic slasher dream project previous involvement with semi-high profile remakes, and a man on the lookout for a comeback….it's by no means a sure thing, but Pavia seems to have all the right ingredients.
I for one could go for a Funhouse remake. What does the slasher nation make of all this?